SPECIALIST
PET PHOTOGRAPHY STUDIO
---
ALLOW ME TO CREATE SOME OF THE MOST BEAUTIFUL IMAGES
YOU ARE EVER LIKELY TO SEE OF YOUR PET
From initial consultation and photo session, through to viewing your images and creating final artworks, my service is tailored uniquely for both you and your pets' individual needs. Having selected your favourites, I will transform them into unique works of art. You will receive artworks rendered on the highest quality materials creating stunning memories that will never fade away.
BECAUSE SPECIAL FRIENDS DESERVE SPECIAL MEMORIES

RE-OPENING FOR STUDIO SESSIONS
From 13 July 2020
FINALLY some good news!!! 🙂
Yes, I am RE-OPENING on 13 July for studio sessions! Its been such a long time! I will be updating and uploading new safety guidelines very shortly so you see what will be in place as and when you decide to come for a studio session...
Looking forward to meeting and photographing your fur-babies!!!

RECOMMENDATIONS

My photos are absolutely beautiful! Kerto is a wonderful artist with such a great eye. The studio is easy to find, set up well with lots of different props. Kerto was so calm with my dog Dolly (only 2 so can be quite hyper!!) and the outcome was just fantastic. I would highly recommend to anyone if you want pictures as a gift for someone special or for yourself that you can treasure forever! Thank you Kerto, I'm sure I'll be back in the future!

If you are looking for a photographer who will create beautiful images of your dog then look no further. Kerto has produced some stunning portraits of our miniature schnauzer, Bridget, two of which now grace the walls of our home. They have only been up a day and we find ourselves going into the room just to have another look at them!. Absolutely beautiful. I am so glad I took Bridget to Kerto Studio. Kerto was brilliant with Bridget and made the whole experience really enjoyable for both of us. Would highly recommend.

Absolutely wonderful person to work with, an amazing eye for detail and really takes her time to know the subjects. I had an amazing experience and will definately be coming back!
The photo quality was absolutely fantastic and didn't take long to deliver!
And she offers a great amount of different products all of which are delivered in the most stunning quality (no half measures are taken).
I am so happy!

Kerto is just amazing, an excellent professional. Me and my dog were completely "at home" with her. The quality of her work is one of the most brilliant that I ever seen. All the love and dedication she puts into her work is easily identifiable in the final result. I am in love with my Spaniel's portrait! Thank you Kerto!

Had a wonderful experience posing Widget and the end photo I chose is priceless, like a classic painting.

Breathtaking photos, kind and welcoming and so incredibly patient!
I would absolutely recommend Kerto studio without hesitation.
All pet portrait sessions are bespoke, individually designed for your pet(s), as every pet has a different personality and needs. Kerto Studio pet photography sessions can take place either in the studio or your chosen location eg. at your favourite dog-walk. My aim is to capture your pet's personality in the best possible way so you receive images you love and could treasure for a lifetime.
Should you prefer, pet photography sessions can also take place at your home or garden as some older pets may prefer and appreciate secure surroundings and home comforts.
---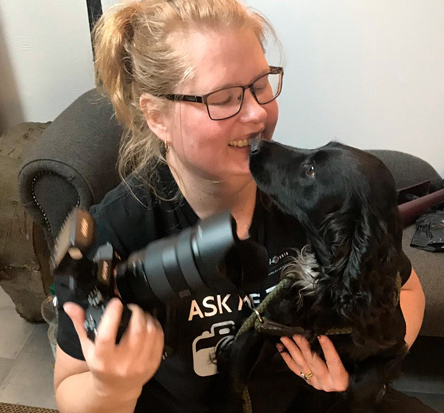 ABOUT KERTO ELVIN
Having photographed numerous subjects over 30 years, both as a hobbyist and later as a professional, I decided to specialise in pet photography in May 2018. I realised there's nothing I love more than to interact with animals whilst capturing their unique and quirky characters with a camera! I love creating one-of-a-kind artworks for my clients, whether in form of beautiful photographic portraits or digitally manipulated images.
I am a member of  The Guild of Photographers and Society of Wedding and Portrait Photographers and I have also achieved a Licentiate of The Royal Photographic Society. Since I opened Kerto Studio, I have been working tirelessly towards achieving the Associate level in The Portrait Masters awards and accreditation program. I am proud to say that I have achieved this in September 2019. Beside all this, nothing really compares to the smiles and happy tears on my clients' faces when they see my images of their pets… Read more
WHERE TO START
Step 1 – book a pet photography session
First step is to get in touch – this will enable us to discuss the best options for you and your pets needs. Why not drop in, have a cuppa and introduce your fur-baby? During this complementary in studio consultation you will also have a chance to look around and get a better idea of the types of products you may like. After you have booked a photo session, you will also receive more info on how to get best out of your photo session ie how to prepare your dog for the 'big day'.
Step 2 – photography session
We encourage you to arrive a little earlier to give your pet a chance to relax and get familiar with the new surroundings. If your dog starts off a little nervous, don't worry, there is no rush and I will make sure your pet gets enough time to relax until they are ready. Photo sessions are a great fun for the dogs but the owners find it equally entertaining! So, bring your dog(s) and lets have some fun! 🙂
Step 3 – viewing & ordering
After the photo session, I will invite you back to view your images in the studio. Time to have another cuppa whilst choosing your favourites… Don't worry I won't make you dizzy showing you hundreds of images, just the best ones!   I am here to advise you on the best artwork to really showcase your pet(s). You can even send me some images of your walls prior to viewing session and we will view the images of your pet on your own walls.
Step 4 – Artwork Delivered
After the viewing session, (it will take anywhere between a few days to few weeks for your artwork to arrive , depending on what you order) you will see your favourite images in print. The vision has finally materialised!
You can then either come in again to collect your products or ask me to deliver these to you. I can even post them to you if the distance and time is an issue.
---
GIFT VOUCHERS
LOOKING FOR A PERFECT PRESENT FOR A PET LOVER?
Kerto Studio Gift Vouchers make perfect presents for the pet lovers in your life who would appreciate some special memories created of their fur-babies in form of fine art photography.
Whether you're shopping for an upcoming anniversary, birthday, wedding, Christmas or that extra special occasion, Kerto Studio Gift Voucher covers all these events. Simply select the value you would like to gift from the drop-down menu  and check out via Paypal.
The voucher(s) can be either posted out to you or you can collect these from Kerto Studio in Winnersh, Wokingham.