ABOUT KERTO
ARTIST WITH A CAMERA
Kerto Studio in Winnersh, Wokingham, Berkshire
Specialising in fine art pet portraits.
Opening of the studio has made a huge difference and has meant I can now offer my clients both on-location and studio photography. I am really grateful for this opportunity to be able to do what I love most – capture the pets different quirky personalities! We have a lot of fun during the photography sessions…especially the pet parents 🙂
---
WHY DOGS?
When I set out to write this about me bit here, I was surprised about the fact how little I actually thought I'd have to tell you… until I got to writing it it all down. I know some of you just love to read other people's stories and that is the purpose of this section…
Kerto – artist with a camera (view short compilation with my oil paintings here) , OK so far it's clear, but why just dogs?
Why not include some other areas of photography I love as well?
It's a really long story but to cut it short I've photographed anything and everything for over 30 years and I felt I was standing still in terms of developing. Covering so many different subjects can be exciting but also tiring: from landscapes to weddings from personal branding to food photography… The feeling of almost suffocating under so many different areas.
I've always had this deep desire to specialise in something and to be the best I possibly can in that one thing I love most. But how on earth do you choose, if you love it ALL? And that was my issue for many years… and although there's nothing wrong with that, I felt it was getting overwhelmingly difficult to be really good in so many areas of photography all at once.
HOW DID IT START?
So how do you just decide one day to specialise in something? Well I was lucky in that this one area actually choose me! Before I started photographing dogs, I was 110% adamant that I will never do dogs!!! My friend actually asked me why not and I just said "because I don't want to, as simple as that!". But then, another friend of mine said to me one day: "Oh I want you to photograph my dog!" and as I had just opened my studio, I felt I needed the income now to sustain it. So I said yes why not but explained I haven't done dogs before but I will do my best to get some good images for you! After that, one thing led to another and I started getting more and more dogs….and the strange thing was I was actually enjoying it! The more dogs I photographed the more it grew on me! Until one day I realised just how much I love this 'job' (job in inverted commas as the saying goes, find something that you love and you don't need to work another day!) and decided that this is it – I am going to specialise in pet photography!
Now the thing to remember here is that I am a cat person I have never had a dog!!!
I was dreading people asking me "and what kind of dog do you have?" Emm…. I don't. It doesn't bother me now as I don't need a dog – I've got so many coming through the studio door now and I love them all!!!
The quirky little personalities and different wonderful looks always make me eager to set out to capture it the best way possible for the parents.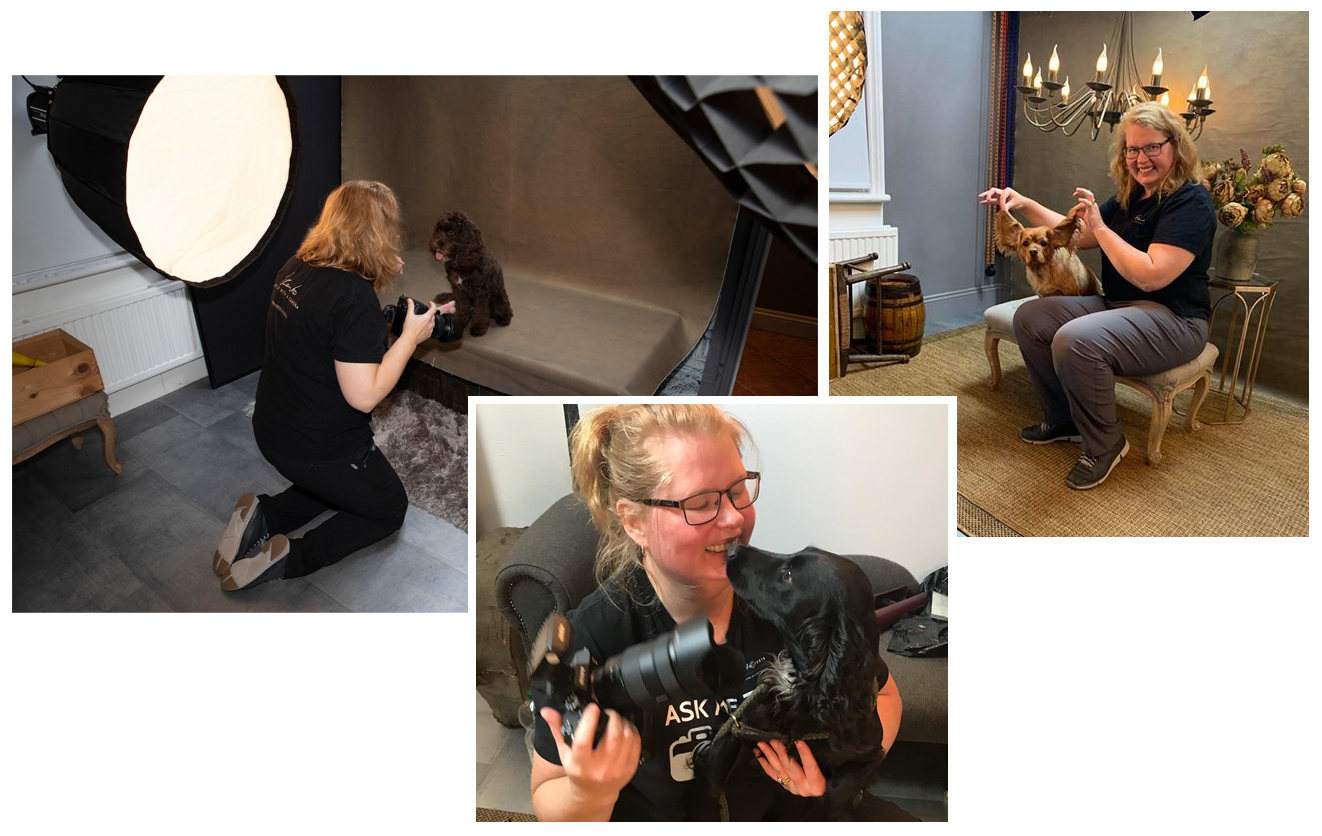 THE STYLE…
So now I told you how the pets found me but I would like to also tell you about the style i ended up with… I'd say my style also found me! "When the stars aligned" – I had a deep Love for Victorian and old style photography (I still have by the way) so I've been looking for a suitable old prop for the studio – an old chest of drunk or something similar. I had a picture in my head and I kept searching the web for something that would match that vision…for months!!
Then one day I had a knock on my door, a neighbour asking for help to lift something out of the boot of his car. As my husband wasn't in, I offered to go and help. You can see what's coming right? 🙂
And when he opened the boot of the car I saw this most beautiful old chest which matched my vision perfectly!! He couldn't quite understand my excitement when I saw it, but long story short I had to buy it!!!
'The stars aligned'…so the second star in this sequence was the backdrop. I had painted a couple of backdrops to do portrait session in the studio and decided to paint a third one – brown this time. But after about 7 different applications within various paints, I almost gave up, ready to dump it as it turned out horrible shoddy brown (but I don't like to chuck things!) and then a crazy thought came to my head 'why not use up some of the old golds, bronzes and other stuff I had left over from my fine artist days!?'… The other side of my head said "don't be silly that's not going to work! It will be shiny and reflective which is not good at all!" Anyway, I decided to go for it! And yes, this is the backdrop I've been using most as it's perfect for the old style look!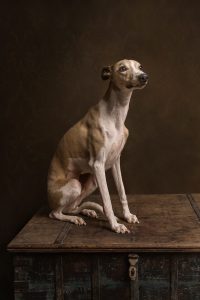 And last, (but not least) the third star aligned: my studio lights! I decided to go with battery powered lights as I was planning to do outdoors/on-locations sessions as well. And the way battery operated lights work is they need a bit longer to be ready to fire again, this creates gaps in the flash cycle. One day I had a whippet in the studio, sat on the beautiful old trunk in front of my marvellous bronze backdrop and one of my two lights didn't fire! "Arrgghh damn" I thought going through the images afterwards, until I came across this shot! Wow! How did I manage to literally nail everything in this shot!?
Morale of the story: Search and you will find it even if by accident! 🙂
There are many more ideas in my head and imagination which are all waiting for their time to manifest and I am excited about working on bringing these to life so watch this space!
---
WHAT'S NEXT?
So, where next? I am on a journey to be the best I possibly can at what Kerto Studio offers in terms of quality and originality of the artworks. I grew up in Estonian, so learning is pretty much built in as part of a culture. I studied the first 27 years of my life so I am always pushing myself further to be better. Therefore submitting images for awards and accreditations is just a part of that desire to see the progress of moving forward more clearly.
Not only that, but my clients always tell me how excited they are to learn an image of their dog has gained international recognition…it's a wonderful feeling to know you produce top quality work for your clients. But also some precious memories of one's pet(s) to be treasured for life in form of archival prints. I feel very passionate about this, as what sort of price tag do you put on a precious memory……..
---
A BIT OF HISTORY
I made an early start with photography, as a 13 year old, I started developing my own films & photos at a young photographers club ran by a professional photographer Mati Pakler. I was so inspired by the process and results that I decided to set up my own dark room about a month later so I could have my very own 'mystery lab' where all the "weird and wonderful" images appeared… It was fun and I really miss those times!…
---
ARE YOU CONSIDERING A PET PORTRAIT?
Do you have questions or concerns, perhaps your pet is old and you have concerns they may not cope well outside or in studio…whatever your concern, I am here and happy to answer your questions. You can call me on: 07772343339 or fill in the contact form and I will get back to you asap.