YOUR INVESTMENT OPTIONS
Many photographers have a separate session fee, at Kerto Studio, this is not the case. You only pay £35 booking fee to secure your date, from there you have a choice to purchase what you absolutely love.
My job is to take amazingly beautiful portraits of you. What you decide to purchase is completely up to you. Some clients spend £250 with me, some spend £3000. 
ALL PRODUCT PRICES INCLUDE:
Corresponding size digital files
1 hour pre photography session consultation
A guide on how to prepare for your photography session
Your photography session
Artistic enhancement of the best images (up to 30)
1 hour viewing session, at the comfort of Kerto's Studio or your home
WALL PORTRAITS
FRAMED
Prints displayed in elegant wood frames (mounting is optional)
From £250
ALUMINIUM
HD metal premium print on 1mm Aluminium. Extremely vivid colours with rich contrasts
Guaranteed 75 years of color brilliance. Add £50 for dibond backing
From £250
ACRYLIC
UltraHD photo prints mounted under brilliant 4mm acrylic glass with an alminum dibond backing
Guaranteed 75 years of color brilliance
From £350
MULTI-PANELS
Panel images are printed on Fuji DP2 paper channeling maximum contrast,then laminated and come with a Satin finish with UV protection
From £300
BIRCHWOOD
High quality prints with visible wood grain. Guaranteed 75 years of color brilliance
From £250
THE BEST NINE
Beautifully framed archival quality print of 9 of your favourite images, each image measures 4×6″. When one large image is not enough.
From £795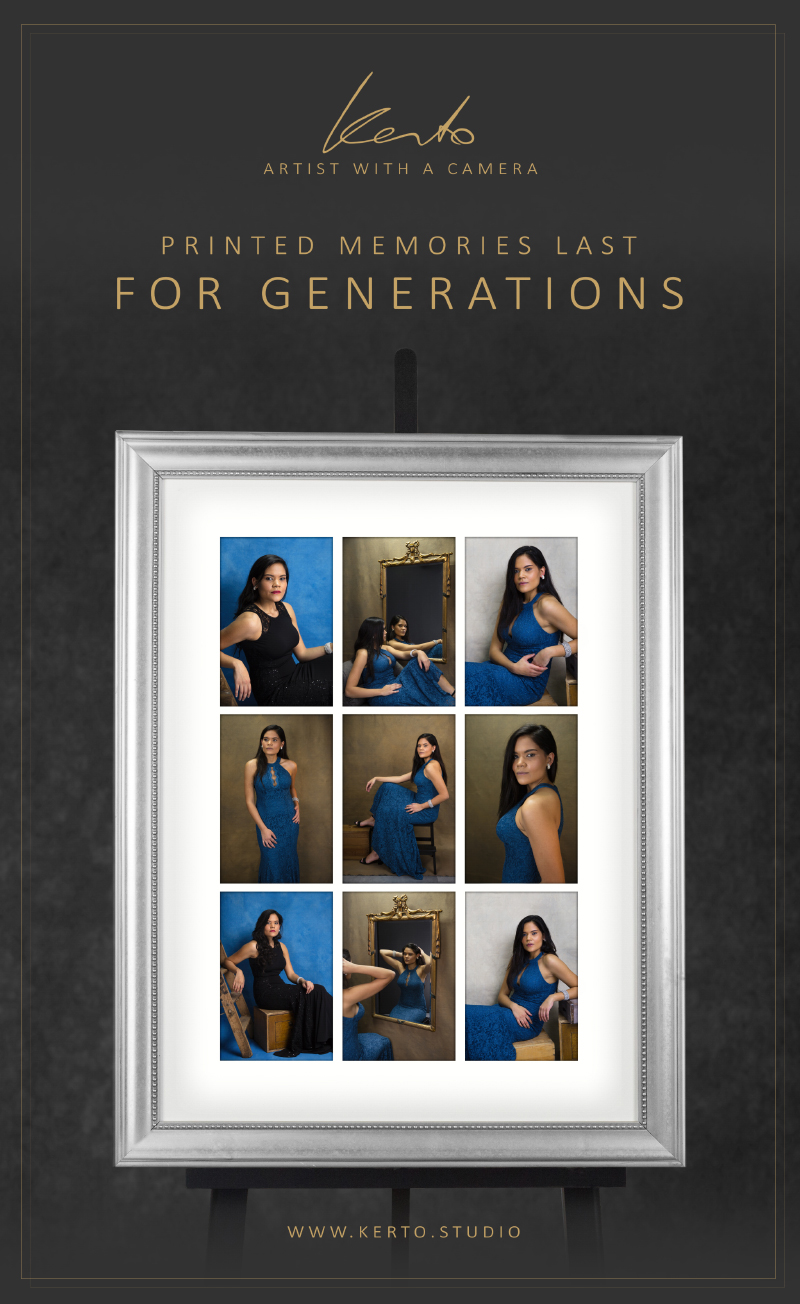 The Image Box elegantly stores and presents your prints. The perfect solution for maternity images, portraits, portfolio, and even a complimentary images for a parent or relative as a present. The best value if you are looking to order more than 6 images from your photography session. These are very versatile – you can use the prints on their own to display in frames or leave them in the box for viewing on a coffee table – the choice is yours.
Box cover: photographic wrap cover
Lining: black fabric
Paper: Luster with UV varnish
Prints are backed with hard cardboard
Each box is carefully handmade
Available in 3 sizes: 8×12″ / 10×10″ / 12×8″
From £595


Perfect if you are just looking to purchase a couple of images.
Pricing displayed below is for the first print, if you are buying 2 or more, the discount will be applied accordingly.
Premium quality luster prints, guaranteed to last 100+  years.
8″x12″ – £150 for the first image (Beautifully wrapped and gift boxed)
Two 8″x12″ – £225 |  Five 8″x12″ – £450 | Ten 8″x12″ – £750

12″x16″ – £195 for the first image (Beautifully wrapped and gift boxed)
16"x20" – £250 (Includes duplicate 5″x7″ gift print)
20"x24" – £300 (Includes duplicate 8″x12″ gift print)
ALL PRODUCT PRICES INCLUDE:
Corresponding size digital files
1 hour pre photography session consultation
A guide on how to prepare for your photography session
Your photography session
Artistic enhancement of the best images (up to 30)
1 hour viewing session, at the comfort of Kerto's Studio or your home