KERTO STUDIO
PREMIUM PRODUCTS
ONLY THE BEST IS GOOD ENOUGH
If I wouldn't have it on my wall, I wouldn't offer it to my clients. 
I've spent months finding the best quality labs in the business – months spent to give you the quality you deserve.
---
After the photo session you will be invited back to Kerto Studio for a viewing and ordering session. You are always welcome to drop in by appointment any other times as well of course, to have a nose around in the studio, office and gallery. You will have a chance to see the quality of the fine art prints first hand.
My job is to take the best images you have ever seen of your fur-baby(ies), and you only purchase if you are happy with your images. Artworks start at just £75.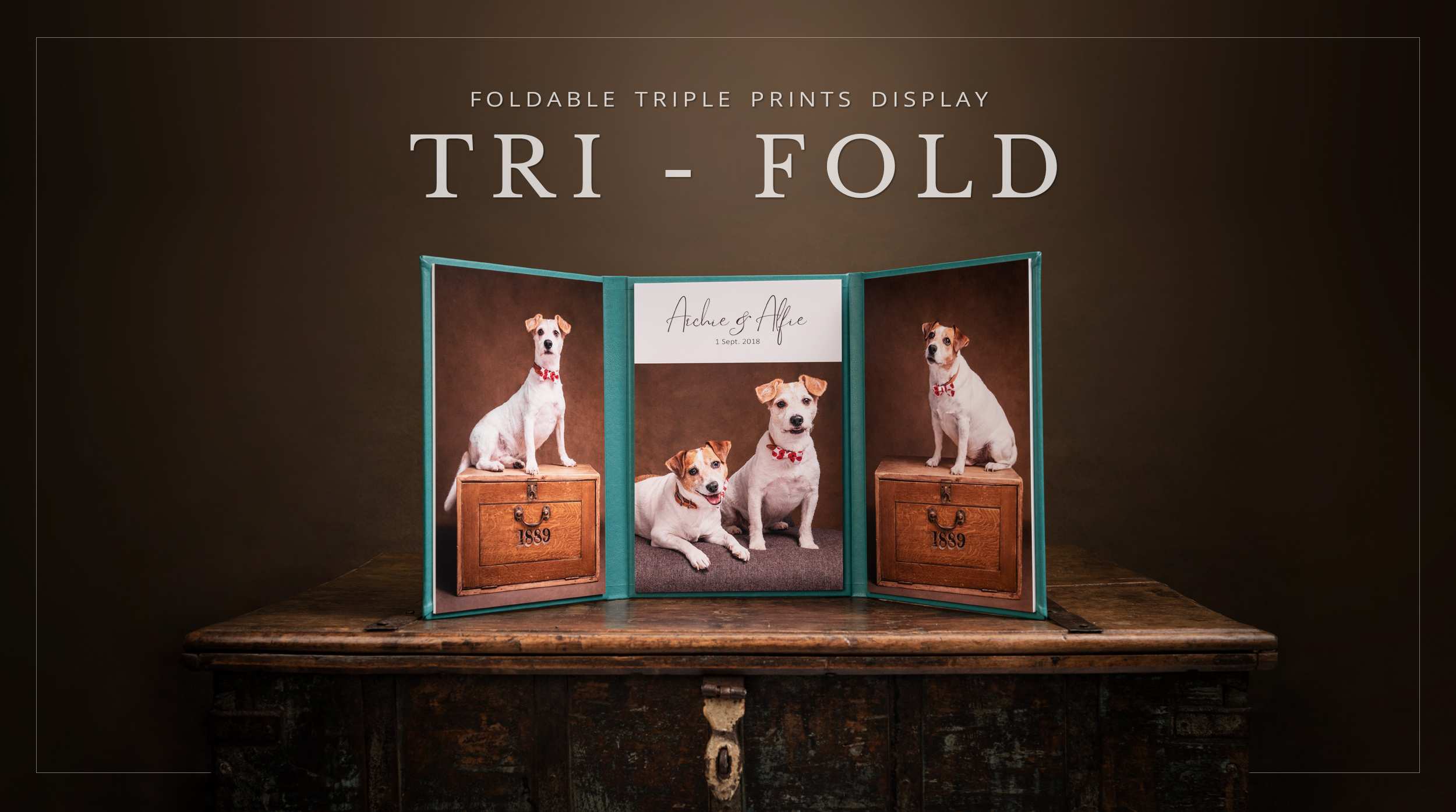 FOLDABLE TRIPLE PRINTS DISPLAY
TRI - FOLD
Introducing – Tri-fold! As with all the other products by Kerto Studio, premium comes as standard with this 8×12" foldable triple prints display. Prints are HD quality with superior pixel density and come with 100+ years of colour brilliance.
In this example, I have added names of the dogs as part of the centre image, to show the possibilities. You can of course have just 3 straight forward images of your dog(s) there. It worked particularly well with 2 dogs as you can have both dogs on their own as 'bookends' and then the middle image would have them both together. But it would work equally well for any other dog, especially if you'd like more than one image from your session!

This would make a great display as it's already a finished article, no frame, mounting etc. required, simply open it up and display on a shelf or sideboard etc.

PS> As with all other products, if you have purchased prints already, these will essentially be duplicates, hence at a very good price at only £125. If you'd like to use new images from your session, this product is £175. 

PPS> Please feel free to drop in the studio to check it out, the images and description really doesn't do it justice! 😊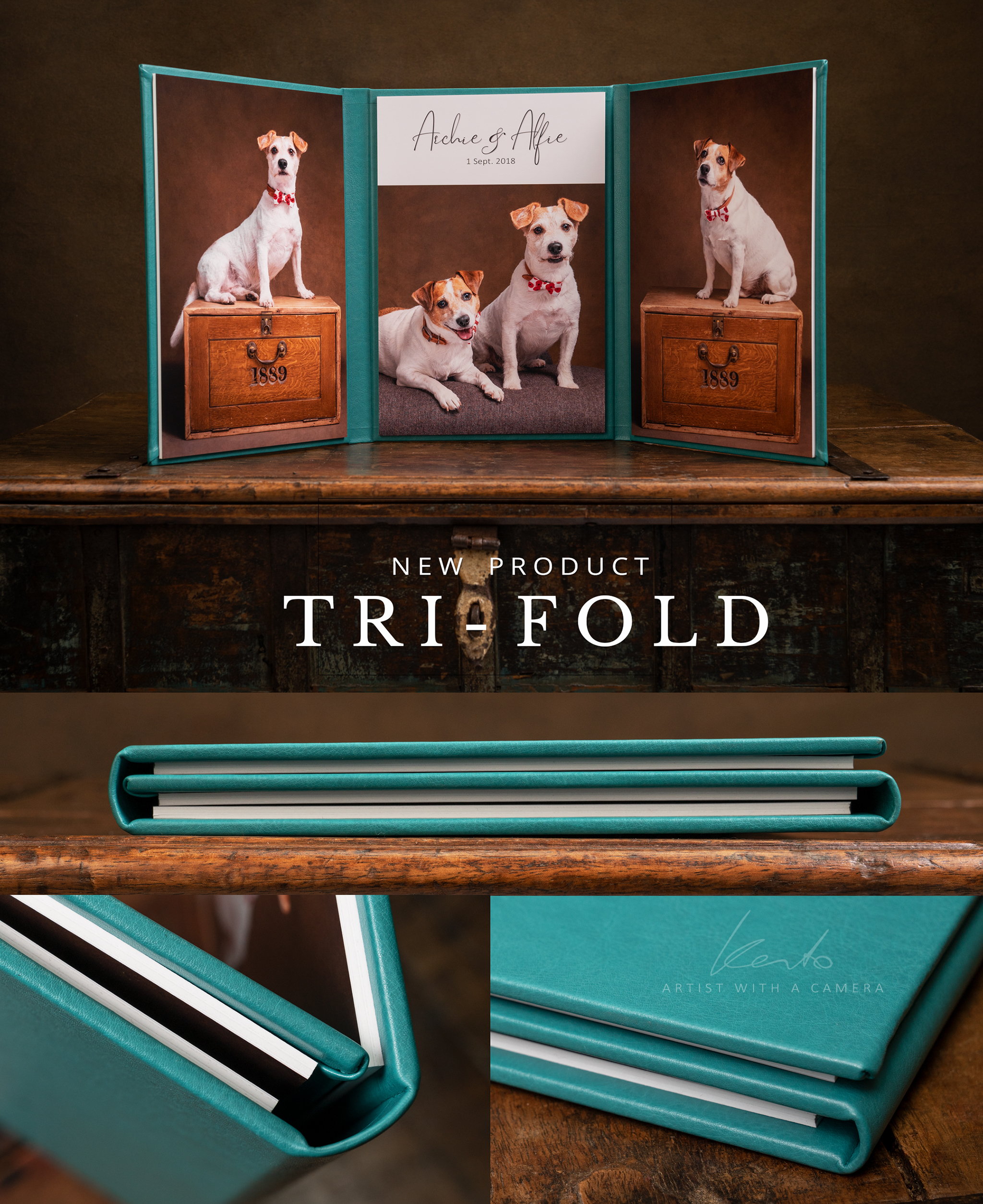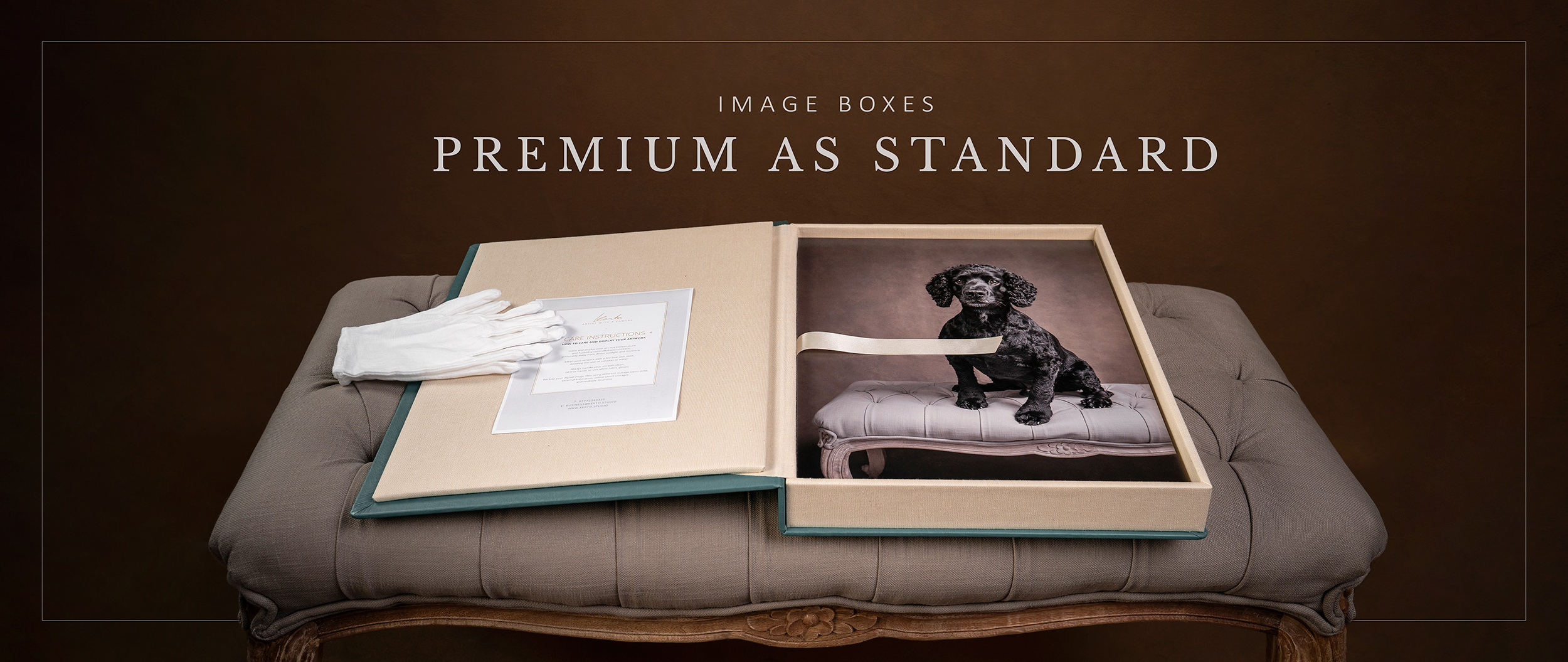 PREMIUM PRODUCTS
IMAGE BOXES
The Image Box elegantly stores and presents your prints. The best value if you are looking to order a number of images from your photography session. Very versatile, many ways to display: place in frames, attach on painted wall with sticky pads, display on mini easel or leave in the box for viewing on a coffee table.
Box cover: choose from a variety of materials
Lining: choose from a variety of materials
Paper: Luster with UV varnish for longevity and lasting colour-brilliance of over 100 years
Prints are backed with hard cardboard
Each luxurious box is carefully handmade
Available size images in a box: 10×10″ / 12″x16″
Optional extras: USB stick; custom text or image etched on cover
From £495
Nothing works quite like printed images beautifully framed and displayed on a wall
FRAMED
Your fine art prints displayed in a variety elegant frames available at Kerto Studio.
ALUMINIUM
Premium HD print on 1mm Aluminium. Vivid colours with rich contrasts. Guaranteed 75 years of colour brilliance.
ACRYLIC (including circle)
UltraHD photo prints mounted under brilliant 4mm acrylic glass with an alminum dibond backing. Guaranteed 75 years of colour brilliance.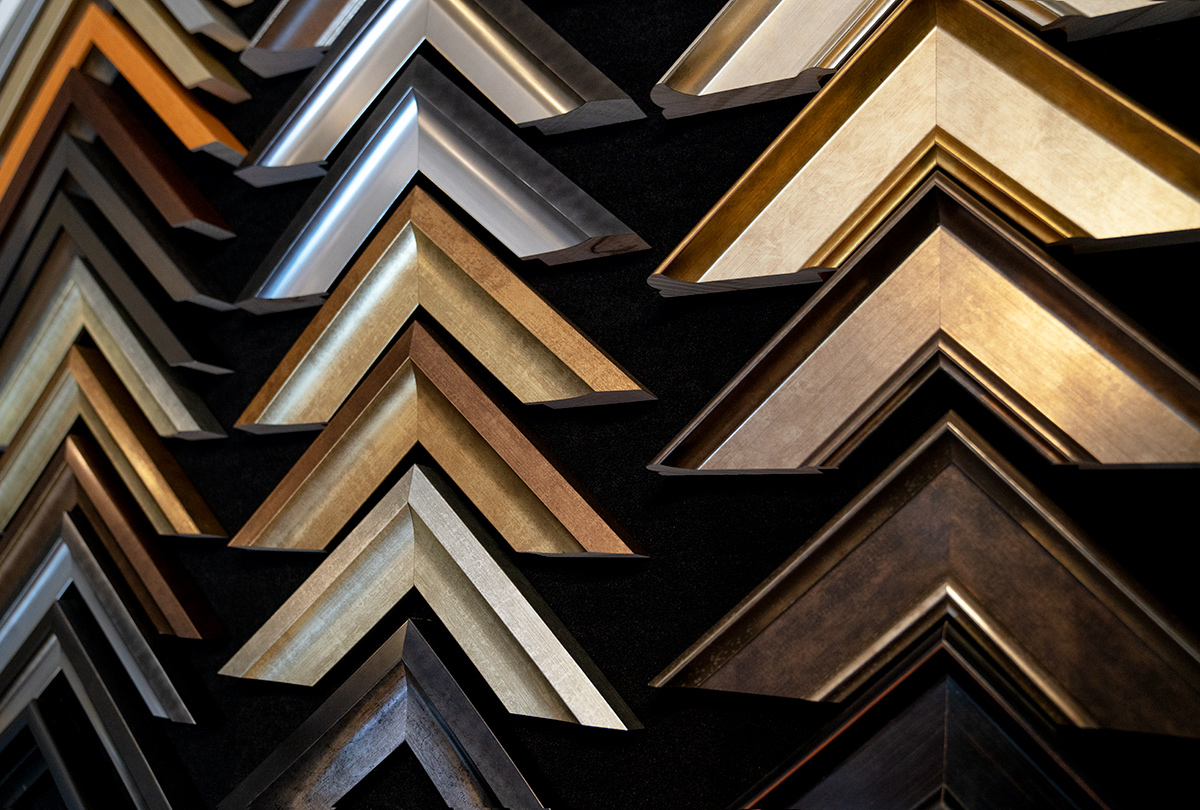 CANVAS
Premium quality, guaranteed 200 years of colour brilliance.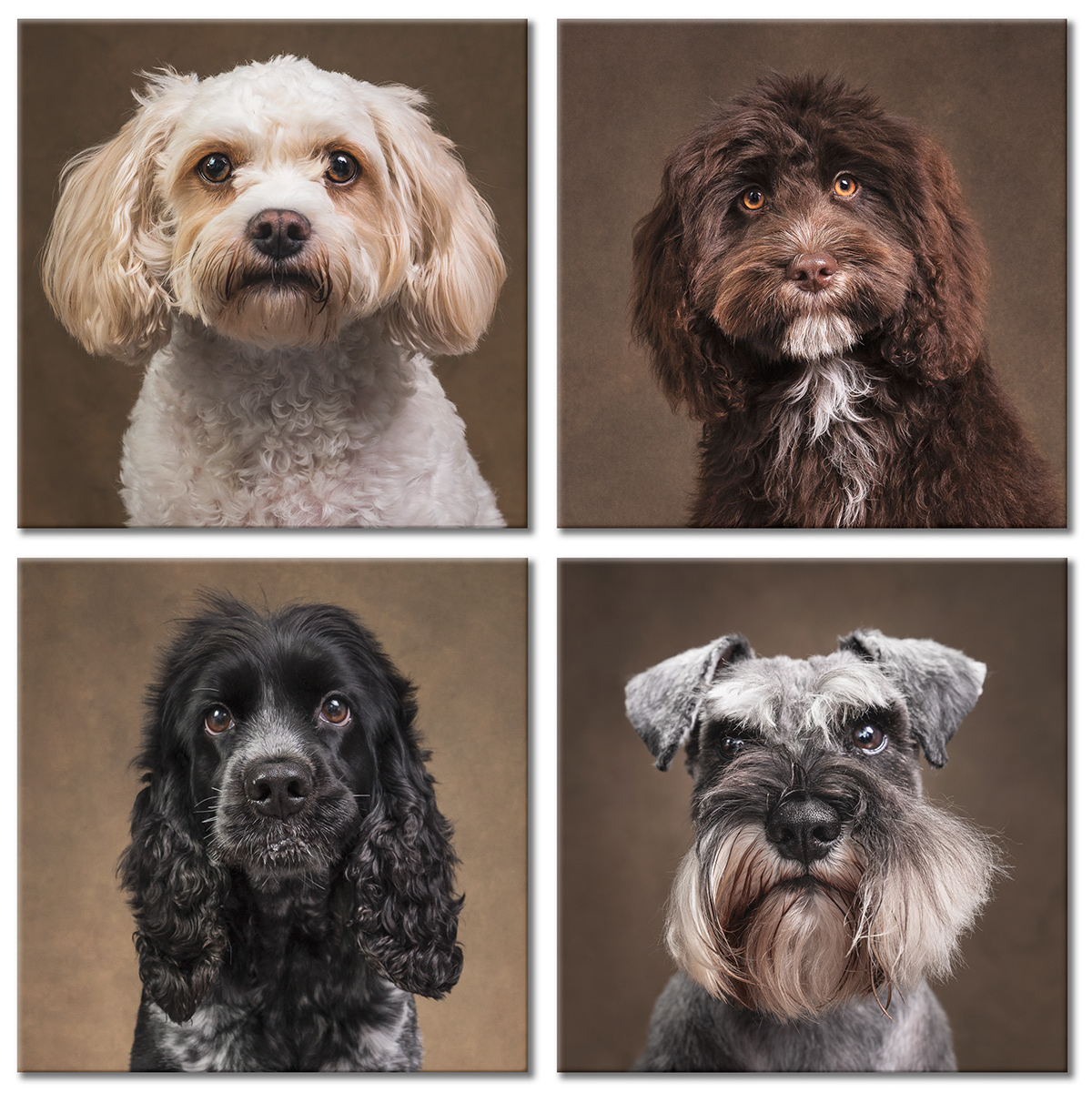 – 1.2″ thick canvas, up to 20″x20″ – £200
– 20″ acrylic circle: £250
– Up to 20″ standard frame: £250
12"x12" acrylic prestige album with 20 images in a matching box
Every Kerto Studio album is bespoke and handcrafted
There would be nothing worse than having spent money on getting beautiful images from your photo session, only to be faded (ruined) a few years later. I believe in premium products which you can enjoy for as long as you live. And I pride myself in offering the absolute best for my clients. You won't find cheap alternatives here!
Kerto Studio albums are examples of truly skilled workmanship, which ooze quality – these are Heirlooms in the making, designed to last for generations.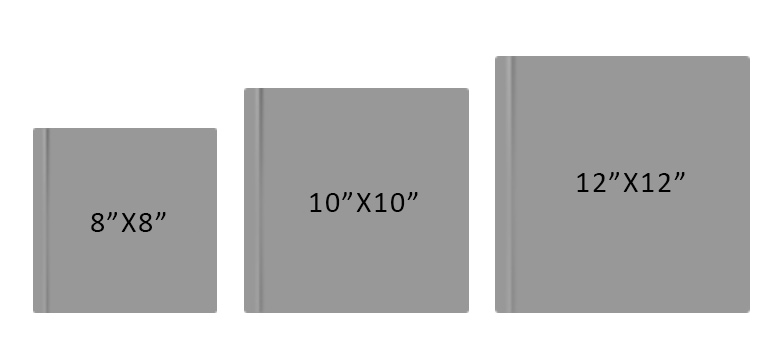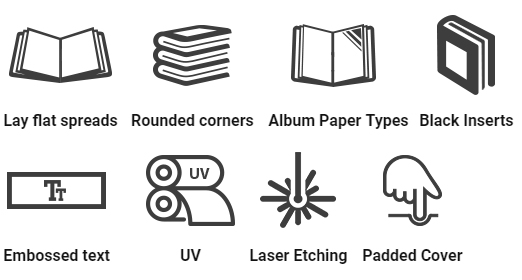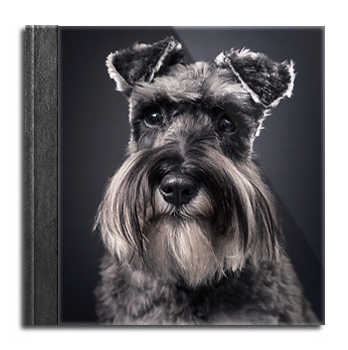 Prestige albums from £495
*** To see my full pricing and product menu, please contact me directly or schedule your complimentary consultation ***