WALL ART
DESIGN GUIDE
SPECIAL FRIENDS DESERVE SPECIAL MEMORIES
Its never too early to start thinking about the whole photography experience, from your photo session to purchasing your final images.
How would you like to display the images of your pet? Kerto Studio specialises in creating unique works of art of your pet, whether you are looking for artworks for your walls or something for coffee table viewing. You can choose from framed artworks, acrylic or canvas; also albums, image boxes and Tri-folds. You are sure to go away with something really special and Kerto will be in hand to help you choose the most suitable way to display the images of your special friend.
Everything Kerto Studio offers is responsibly sourced so you don't have to worry about them fading or discolouring over time.
You may have a few ideas where to display the pictures from your photo session – what do you think would go best with the style of your interior?
Over the years, I have seen that most clients love many images from their photo session, hence choosing a small number of favourites can be challenging as you don't want to leave anything behind. Well, I can help you with that! It's all in the preparation, so perhaps ask yourself:
Do I prefer traditional or modern style?
Am I more of a minimalist or maximalist?
For example, if you are a more traditional type, you might prefer framed pieces; if modern, the frameless and more minimal style options might work best.
This is such an exciting part of the process, getting to choose exactly how and where you would like to display the beautiful artworks with your best friend. If you are unsure at this stage, why not have a look around your home – start with one wall and work your way around the room spotting all the potential spaces. Another good way is to choose a wall that you would like to make a focal point, such as above a fireplace or sofa (don't be afraid to 're-locate' items in your imagination if you need to do so!). Consider what size and style would look best in that spot.
Why not take the guesswork out of this process and send me some pictures of your space? During your viewing and ordering appointment, I will then super-impose the pictures from your photo session onto your own walls to the correct scale! This way, we can be certain that whatever you order, will fit your space perfectly. And in case you are after a number of prints from your photo session, you could also go for an album or a smaller image box in addition to your wall portraits.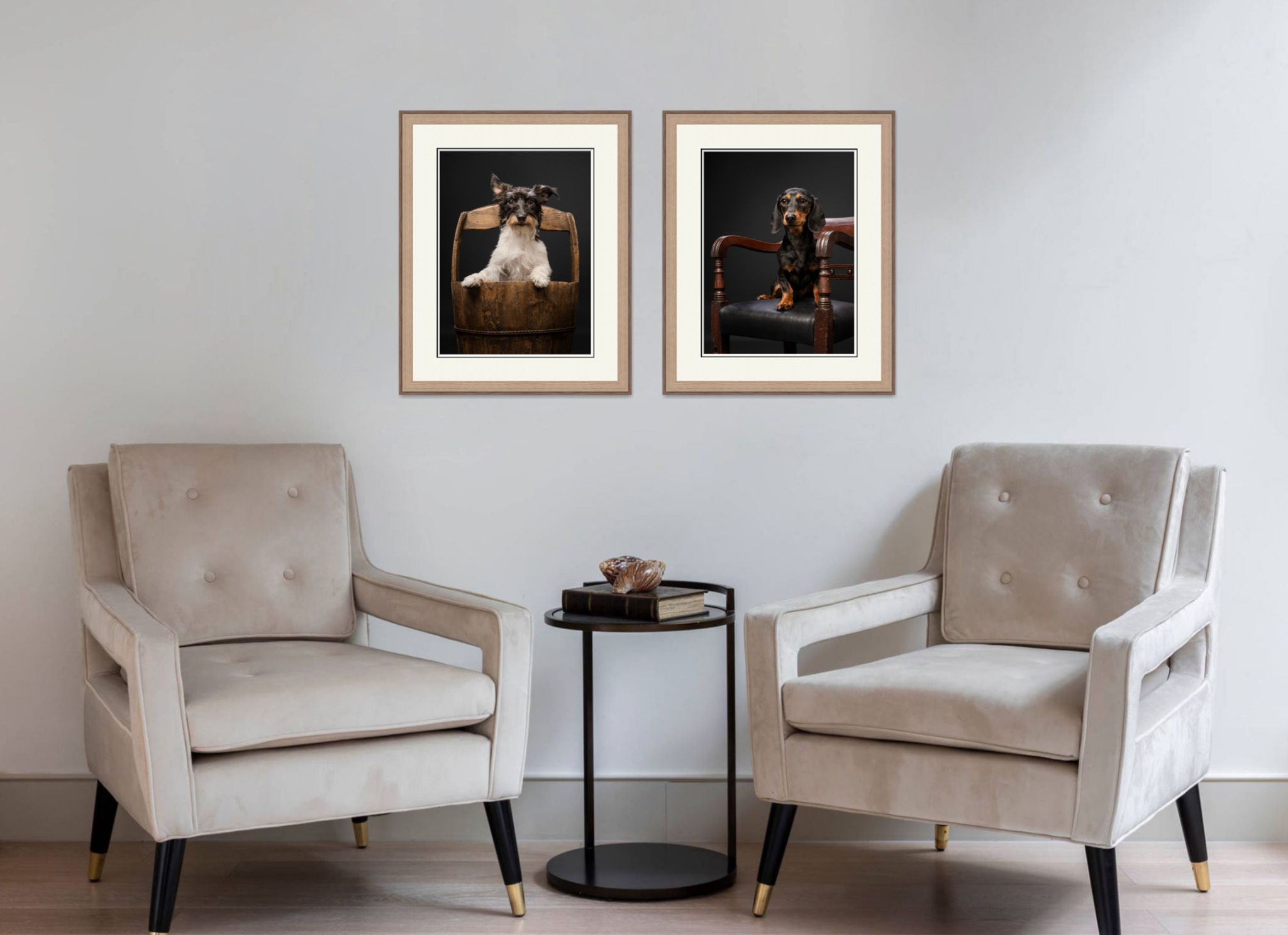 Below you will hopefully find some inspiring ideas how you could display your images in your home as well.
WAYS TO DISPLAY
ONE PIECE OF WALL ART
Most of my clients choose to display something on the walls, whether its one big statement piece or a number of portraits displayed either in a grouping or scattered around the house.
Kerto Studio offers a variety of wall art options, such as framed pieces, circular prints and canvases. The amount of space you have on your walls, makes very little difference when it comes to displaying your wall art – you can be sure to find something that fits your requirements perfectly.
If you prefer to keep your special memories off the walls, why not choose an album or an image box so you can take them out just for a special occasion.
WAYS TO DISPLAY
A PAIR OF PICTURES
There is no right or wrong way to display wall art.
It's all about what looks best to you and fits your space.
When it comes to displaying wall art, even the smallest space can be transformed into an art gallery. The key is to select pieces that will make a big impact without overwhelming the space. When hung in groupings, artwork can create a beautiful collage that will add interest and dimension to any room. So don't be discouraged if you only have a small space to work with—with a little creativity, even the tiniest room can be turned into a stylish gallery.
WAYS TO DISPLAY
A TRIO OF PICTURES
TRADITIONAL
Framed wall art, including canvas
MODERN
Frameless wall art and circles
MINIMALIST
Album, image box (less on the wall)
MAXIMALIST
Wall groupings (more on the walls)
WAYS TO DISPLAY
A GROUP OF FOUR
Whatever size or shape space you have, I am here to help you decide what works best by showing you the pictures from your photo session on your own walls in the correct scale. This will take all the guesswork out of the decision-making process and you will be sure to go away with something that fits your space perfectly.
If you are unsure where to start, I recommend starting with one wall and working your way around the room from there. Another option is to choose a wall that you want to make a focal point in the room, such as above a fireplace or above the sofa.
Here are a few tips to get you started:
Hang art at eye level. This will make it easier to enjoy and appreciate.
Create a focal point. Use larger pictures and/or wall groupings to create a focal point in your room.
Mix it up. Don't be afraid to mix and match different mediums, sizes, and frames.
Think outside the box. Don't forget to consider other ways to display your wall art, such as using shelves or wall hooks.
WAYS TO DISPLAY
GROUPINGS OF 5 AND MORE
And finally… some questions which should help in your decision-making:
Do I prefer Prints or just digital files?
If you are of two minds, here are a few helpers…perhaps a few other questions to ask yourself here are:
"Am I likely to get the pictures printed myself? If so, what will the quality be like?"
"Will I be satisfied and over the moon receiving no tangible product for my investment?"
Please note that every print purchase already has a matching digital file included.
What size would fit my space?
A good example of this which most people understand is the usual space over a standard size fireplace: a 40"×30" might be too big but then again, 16"×20" would look lost in it.  So, a medium size picture ~24"×32" would look about right in that space.
How many images would I like to purchase?
What would ultimately bring you more pleasure in long term: having one impressive big piece of wall art or a number of smaller images? There is of course an option to have both.
What will I value most in long term?
Look around you: do you notice any items which have brought years of pleasure to you? Why not take 5 minutes right now, try and analyse why those items bring you so much happiness? Can you imagine a personal piece of fine art photography of your pet – could you see it becoming one of your most treasured possessions?
How likely am I to repeat this experience and receive similar images?
What is my décor style?
Do you tend to go for more funky and out of the box stuff or are you more traditional kind of person? I have a range of products to suit most tastes.
Have I displayed any family pictures, dog pictures, other pet pictures?
If so, are you planning to add to that collection or are you creating something new displayed separately?
---
Can't find what you are looking for? Or perhaps you'd like to check out the products before committing?
*** No worries at all, if you need further information or want to discuss your next project I'd be more than happy to help, so give me a call on 07772343339 or pop in to my studio and we can go through everything over a cuppa.  ***